Manzano High School
Class Of 1971
In Memory
Ernestine (Tina) Mascarenas (Sanborn)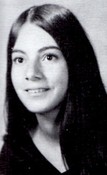 March 23, 2003
Provided by: Pam Pipkin Merrill
Date Of Birth: Feb-4-1954
Date Deceased: Mar-23-2003
Age at Death: 49
Cause of Death: Cancer
Classmate City: Sylmar
Classmate State: CA
Classmate Country: USA
Survived By: Spouse and 1 daughter

She was always good kind and loving. I miss her so much but owe her more than words can ever say. I love you sweet friend.

The committee has attempted to include information on those in our class who have passed on. We were unable to locate able to locate Tina's obituary at this time. Should you have access to a copy of the obituary, please contact us and we will update the information. Thank you.