Manzano High School
Class Of 1971
In Memory
Judith Duff (Leach)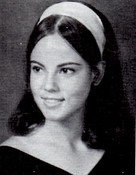 Duff-Leach, Judith Dianne
Judith Dianne Duff-Leach, 61, a dedicated mother, passed away on May 5, 2015. Dianne was born in Albuquerque, NM on October 3, 1953. She grew up in central New Mexico in Albuquerque, a ranch near Cerrillos, and a farm south of Bernalillo, where her family raised Appaloosa, and later, Thoroughbred horses. She studied classical piano and, in 1971, made her debut at the Gran Baile de la Sinfonia de Albuquerque. Dianne was a graduate of Manzano High School and a student of Theology at the University of Albuquerque. Dianne was an accomplished and published writer, and was active with the Rio Grande Writer's Association and was the co-editor of the book, "A Spirit That Wants Me", an anthology of New Mexico stories and poetry. Dianne was an avid gardener, weaver, and music lover who dedicated her life to raising her children.
She is survived by her son, Jeremy Duff-Leach and wife Delia; her daughter, Emily Duff-Leach; grandchildren, Christian, Evan, Dylan and Lillian; her brother, Ted Duff and wife Janet; niece, Rebecca; and nephew, Andrew.
Dianne was preceded in death by her parents, Arthur L. Duff and Reba Duff; and her brother, Arthur "Sonny" Duff.
A Memorial Service will be held at FRENCH - Wyoming on Saturday, May 9, 2015 at 6:00 p.m. with a reception following the service. In lieu of flowers, please make contributions in her name to the ASPCA.
Please visit our online guestbook for Judith at
www.FrenchFunerals.com