Manzano High School
Class Of 1971
In Memory
Robert (Ronnie) Green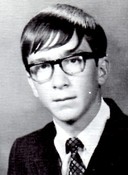 Robert Ron Green
Celebration services for Robert Ron Green, 51, of Lubbock will be at 11 a.m. Friday, Feb. 18, 2005 at New Horizon Baptist Church with the Rev. Jackie Gestes officiating. Graveside services will follow at 3 p.m. in the Rose Hill Cemetery, Tulia. Mr. Green went to be with Jesus Tuesday, Feb. 15, 2005.
Ron was born Nov. 25, 1953 in Amarillo. As an infant he moved with his family to Denver, Colorado and then Lubbock. In 1968, he and his family moved to Albuquerque, New Mexico. He graduated for Manzano High School in 1971 and attended the University of New Mexico for a year before moving to Lubbock. In 1975, Ron graduated from Texas Tech University with a bachelor's degree in Business Administration. He worked for Furr's Supermarket for 18 years working his way up from sacker to management and accounting.
He worked as an accountant for Barcelona Court Hotel. Ron then worked for Bob's Convenient Store, a family business, for 10 years. Ron married Jean Cross on Feb. 10, 199 0 at First Baptist Church, Ford Memorial Chapel, Lubbock. In 1998, Ron started a second career as a math teacher. He taught at New Deal, Olton and at Ralls for the past 5 years. While teaching at Ralls, Ron coached UIL Math and Statistics. Ron kept the stats for all the athletic games.
He participated in all extra curricular activities especially the school dances, which he and his wife chaperoned. He was a member of New Horizon Baptist Church. Ron taught Sunday school, was a music leader, served as Treasurer and was involved in Vacation Bible School. Ron was a loving Christian man who touched many people's lives.
Survivors include his wife, Jean; 2 daughters, Jennifer LeAnn Green and Whitney Sue Green and their mother, Nancy Nix; his mother, Betty Green; a brother, Randy Green and wife, Denise, and their children, Eric, Kristyn and Kaitlyn all of Lubbock; brothers and sisters-in-law, Bob Cross and wife, Patti, and children, Dax, Becca and Zach of Atlanta, Georgia, and Charley Cross a nd wife, Kay, and daughters, Carly,Sheila, Kerri, and Breena of Lubbock.
His father, Robert "Bob" Green preceded him in death on Feb. 18, 2003. In lieu of flowers the family suggests memorials to New Horizon Baptist Church, 2805 98th Street, Lubbock, Texas 79423. To send on line condolences go to http://www.franklin-bartley.com/ .