Manzano High School
Class Of 1971
In Memory
Velma Herrera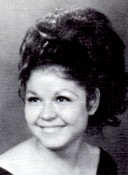 Deceased Classmate: Velma Herrera
Date Of Birth:
Date Deceased:
Age at Death: 48/49
Cause of Death: Epilepsy - seizure
Classmate City: Albuquerque
Classmate State: NM
Classmate Country: USA
Survived By: Father - Jose Manuel Herrera

I found this information out from a Hair Dresser who knows their family. She had passed away some years ago. From what our friend said she was 48 or 49 when she died.